CDE Artificial Intelligence Panel at John Carroll Weekend 2023
CDE faculty engage with alumni at annual gathering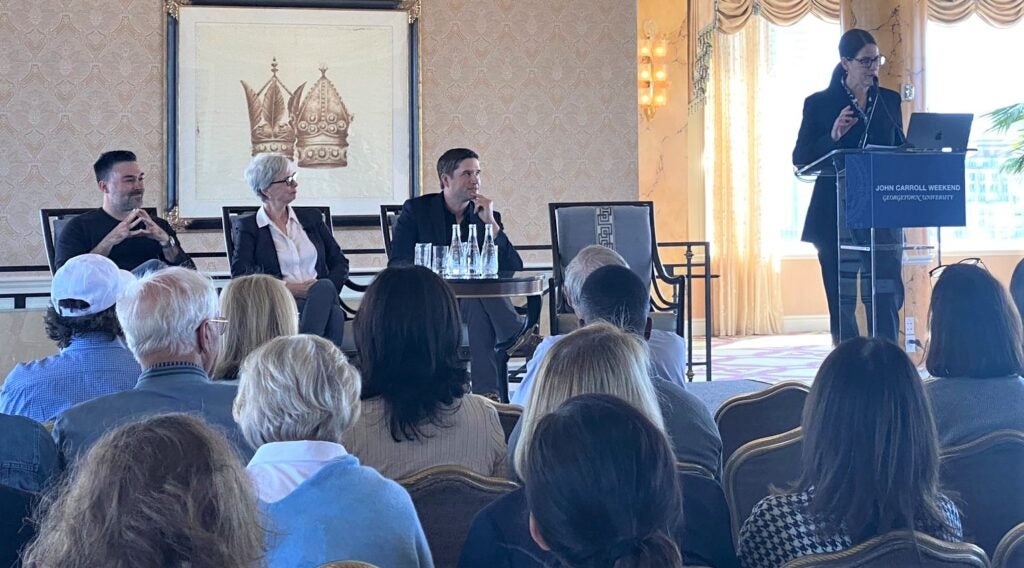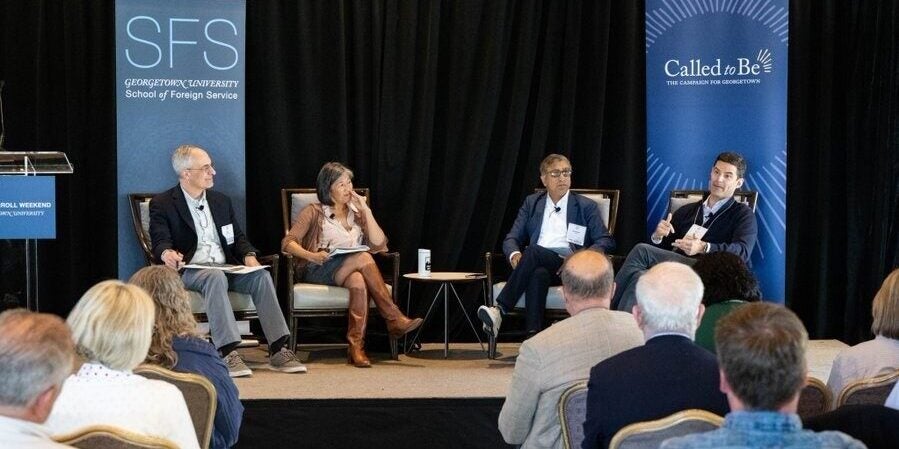 On Friday, April 21, three Center for Digital Ethics (CDE) faculty members spoke to a standing-room-only audience in a panel titled "AI Chat: Crisis or Human Evolution?" at John Carroll Weekend 2023 in San Francisco, CA. The next day, CDE's Anupam Chander was part of a dynamic panel on "Democracy, Technology, and Geopolitics: Shaping our Global Future."
Laura DeNardis, PhD, professor and endowed chair in Technology, Ethics, and Society moderated Friday's panel, which examined the critical questions raised by the ability of artificial intelligence programs like ChatGPT, which mimics human communication, and AI art programs like Dall-E 2, which is used to create stunning visual images. At Georgetown, the immediate concern is the use of these programs to write "original" papers, compose music, complete computer programming assignments, even write creative fiction. More broadly, these programs are flooding social media and creating the next terrain of disinformation and campaign influence. These programs also have the ability to produce stunning works of art, and their capabilities may someday be able to increase access to medical or mental health records. Where will this go: telemedicine appointments with AI, films without real actors, computer programmers who are not humans?
The panel featured CDE affiliate faculty Maggie Little, BPhil, PhD, Francis J. McNamara, Jr. chair of philosophy, senior research scholar, professor of philosophy, and director of Ethics Lab; Cal Newport, PhD, associate professor, department of computer science and author of A World Without Email (and most recently, "What Kind of Mind Does ChatGPT Have?" in the April 13 edition of The New Yorker); Alumnus Trae Stephens, partner at Founders Fund and co-founder and executive chairman of Anduril Industries, rounded out the group. The panelists gave demonstrations of AI-generated communication, code, and art and discussed the implications of this emerging technology for the future of work, democracy, national security, and what it means to be human.
The Saturday panel, which was sponsored by the Georgetown Technology Alliance, Center for Security and Emerging Technology (CSET), and Walsh School of Foreign Service, tackled current events from Russia's invasion of Ukraine and the decoupling of the US-China relationship to political polarization in the United States, exploring implications for global business in the post-pandemic future. Chander, the Scott K. Ginsburg professor of law and technology at Georgetown, spoke along with Igor Mikolic-Torreira, Director of Analysis at the Georgetown University Center for Security and Emerging Technology (CSET), alumna Nicole Wong, a Senior Advisor at Albright Stoneridge Group (ASG) who has also served as Deputy Chief Technology Officer (CTO) of the United States and as the Legal Director of Products at Twitter and Vice President and Deputy General Counsel at Google, and alumnus Ned Segal, former Chief Financial Officer at Twitter.